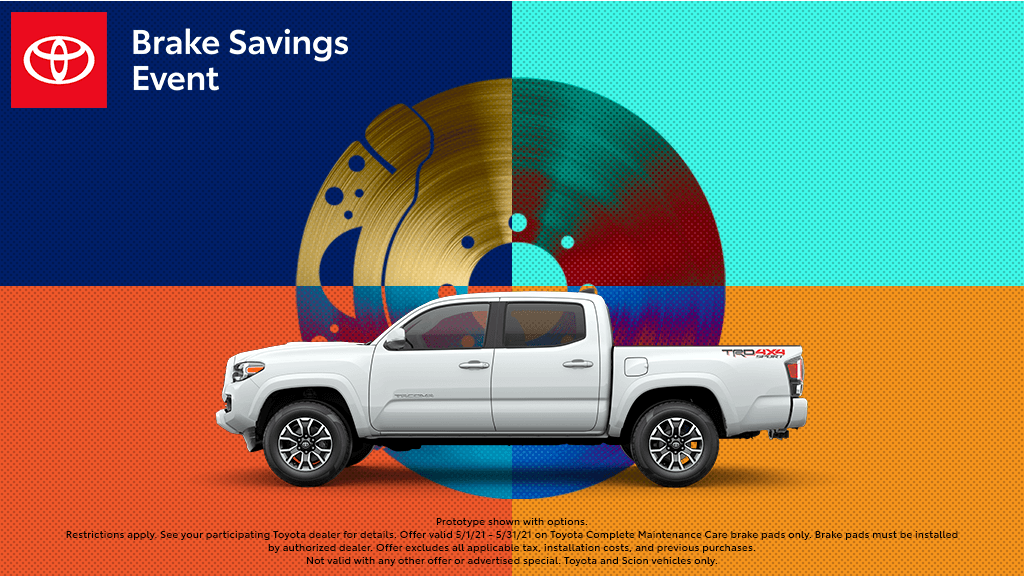 Related Links
Professional Brake Service at Galesburg Toyota
When you've made the decision to purchase a well-made, high-quality Toyota model, you want to make sure it lasts a long time. One way to do that is with genuine Toyota service and maintenance from the service center at Galesburg Toyota.
Our service center is staffed with technicians who, not only know cars well, they also know Toyota brand cars better than anyone, including your neighborhood mechanic. Plus, our techs do something your regular mechanic doesn't. We only use genuine Toyota part in all of our repairs and replacements, including brakes.
Toyota Brakes in Galesburg
When you need an eye exam, you don't go to a general medical practitioner. You go to an expert in eye care. The same applies to car repair. Don't take your Toyota to a general auto mechanic for brakes. Take it to the Toyota brake experts.
We only use authentic manufacturer brakes components in all of our brake jobs, including:
Brake pads
Rotors
Brake drums
Brake shoes
These genuine brake parts are designed and created by the same people who engineered your Toyota, so you know they're the best thing for your vehicle. In fact, with our Galesburg Toyota parts being crafted by Toyota for Toyotas, you can be sure the same level of attention to detail and care that was put into your vehicle has also been put into your new brakes.
Service and Brake Repair in Galesburg
If you think your Toyota model needs new brakes, or you want to have your brakes inspected by a professional, bring it back to the service center where you bought it. Bring it back to the technicians at Galesburg Toyota, on North Seminary Street.
We save you time, and worry by doing the job right the first time, because we do our repairs with the right parts now, saving you future hassles.
We're sorry, we do not currently have any specials published. Please check back soon or contact us for more information.
Make an Inquiry
Service Hours
Monday

8:00am - 5:00pm

Tuesday

8:00am - 5:00pm

Wednesday

8:00am - 5:00pm

Thursday

8:00am - 5:00pm

Friday

8:00am - 5:00pm

Saturday

8:00am - 12:00pm

Sunday

Closed